VOTE TUESDAY, NOVEMBER 6
Together we can make a difference.
TUESDAY, NOVEMBER 6
6 AM - 9 PM
LOCATION
Hudson's 3rd Ward Votes at St. Mary's Academy
301 Allen Street
Corner of Third and Allen
SAMPLE BALLOT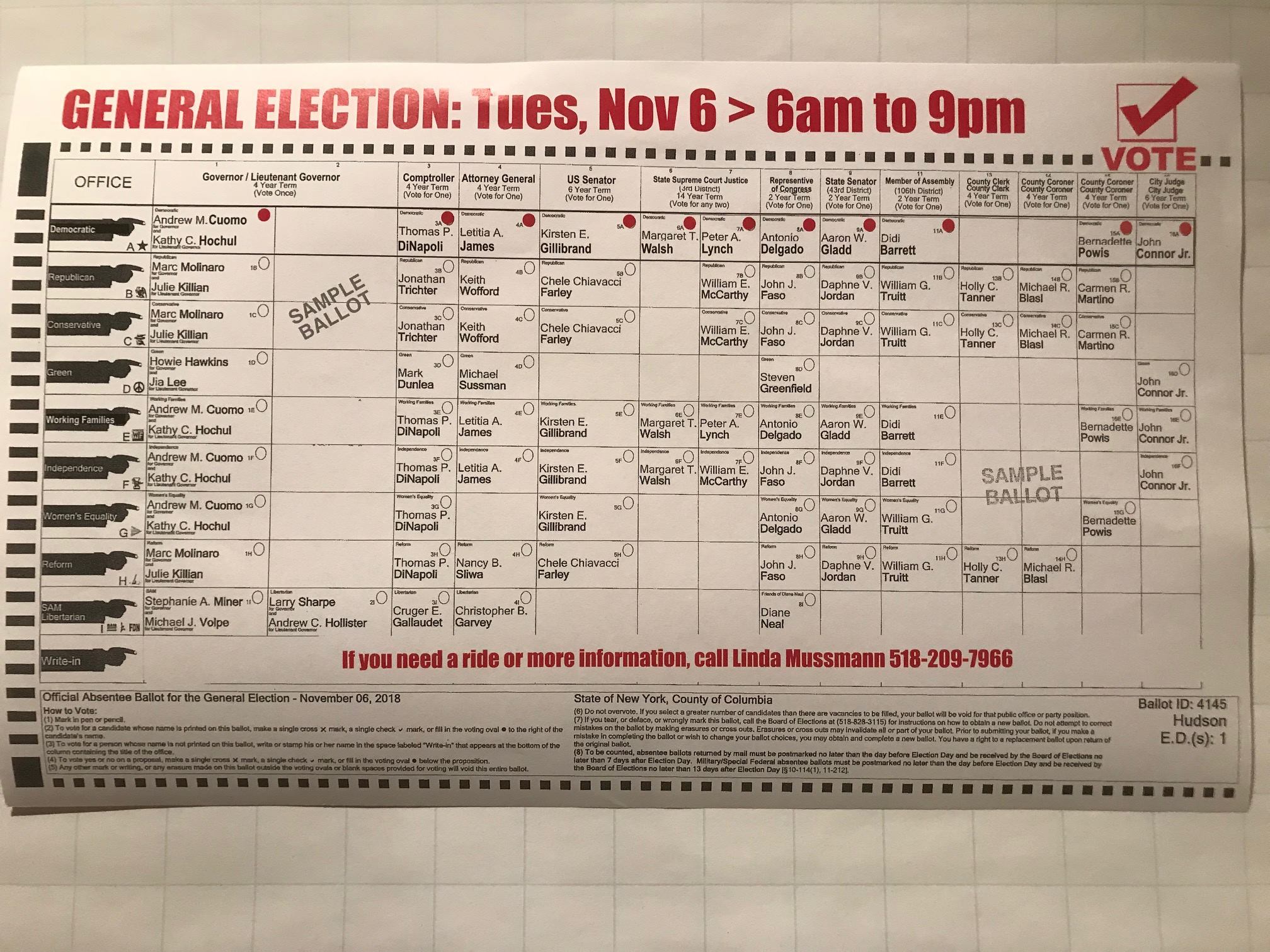 I'm voting Democratic (Row A) - all 11 candidates across the top. See below for details on some of the candidates.
KIRSTEN GILLIBRAND FOR US SENATOR (A5)
Gillibrand is a consistent voice against sexual assault. When the right-wing attacked ACORN with misleading and highly edited videos, she was one of the few Senators who stood up for ACORN's important voter rights work.
PETER LYNCH AND MARGARET WALSH FOR STATE SUPREME COURT (A6 AND A7 - VOTE FOR BOTH)
Walsh and Lynch each have impressive experience and approach the bench with a commitment to fairness.
ANTONIO DELGADO FOR REPRESENTATIVE OF CONGRESS (A8)
Delgado will fight for increased access to quality health care and a fair tax policy. His opponent has been running racist ads and is complicit with Trump's racist and sexist policy.
AARON GLADD FOR STATE SENATE (A9)
For years, the Republican-led State Senate has blocked important legislation. Now is our chance to flip the Senate. Gladd supports investing in education, women's rights, and unlocking economic opportunity for all.
DIDI BARRETT FOR MEMBER OF ASSEMBLY (A10)
Barrett has successfully supported local libraries, farms, environment, and economy. She is remarkably accessible, frequently attending local events.
BERNADETTE POWIS FOR CORONER (A15)
The only candidate with medical experience, Powis will work with grieving families with compassion. They can take comfort that she is facing the death scene with a stringent objectivity and making medically-informed decisions.
GET A REMINDER
SOCIAL MEDIA AND EMAIL
BOARD OF ELECTIONS
Contact Board of Elections for additional information on registration status and voting information.
401 State St, Hudson, NY 12534